Digital Media
Digital media and entertainment is a dominant industry witnessing heightened demand for skills and an accelerating rate of job growth. Despite emerging as an in-demand, mainstream career pathway with tremendous potential for advancement, there's no single book in India that offers extensive career information and career guidance in Digital Media.
Plugging this gap, 'India's Largest Digital Media Academy and winner of the 'Best Digital Media Academy in India' award 'Creative Multimedia' brought out a book titled 'Exciting Careers in Digital Media'.
The Book
'Exciting Careers in Digital Media' is a well-compiled book loaded with extensive information on creative careers across digital media and entertainment. The book includes sector-wise job roles, specializations, skills requirements, pay scale range, career preparation tips, and related trivia. This book helps you explore and evaluate available options before gauging your aptitude to make an informed and confident career decision.
The Launch
The IT Minister of Telangana state, Sri K.T. Rama Rao released the book 'EXCITING CAREERS IN DIGITAL MEDIA' at Hyderabad International Convention Centre, Hyderabad on 16 November 2021 in the presence of Rajiv Chilaka - Founder & CEO, Green Gold Animation; Biren Ghose - M.D., Technicolor India; Sudheer Babu - Film Star, Jayesh Ranjan - IT Secretary, Govt. of Telangana, and the author of the book RajaSekhar Buggaveeti.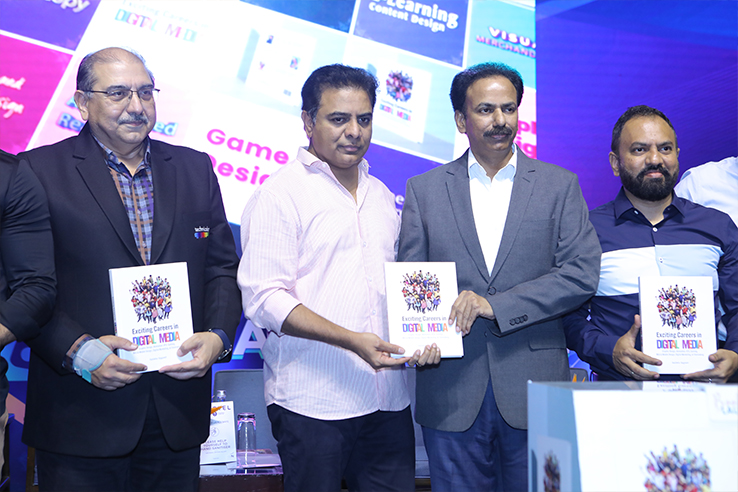 The Feedback
Et nemo qui impedit suscipit alias ea. Quia fugiat sit in iste officiis commodi quidem hic quas.
The Feedback
...a unique guide... a must-read for students
Sanath PC
- Firefly Creative Studio
... comprehensive information... a must-read for aspirants
A.R. Seshaprasad
- Dneg (India)
...brilliant resource for creative talent and the VFX/animation industry
Praveen Kilaru
- Digital Domain, Hyderabad
This book will guide students in their professional journeys
Rajiv Chilaka
- Green Gold Animation
...a valuable, wholesome resource for students
Vaibhav Kumaresh
- Vaibhav Studios
...a much-needed initiative for budding animators
Suresh Eriyat
- Studio Eeksaurus
...fantastic coverage of all career options in the creative fields
Rajat Ojha
- Gamitronics
...pretty much covers every possible opportunity in multimedia
Srinivas Mohan
- Indian Artists Computer Graphics
The Stand
The book is available on Amazon and also at the office of the publisher 'Creative Multimedia'.
Contact Us
Location:
Creative Multimedia, 5th Floor, Sai Towers, Main Road, Dilsukhnagar, Hyderabad – 500 036. Telangana, India.
Email:
contact@creativemultimedia.net
Call:
+91 9052 50 9052
+91 9659 48 9659